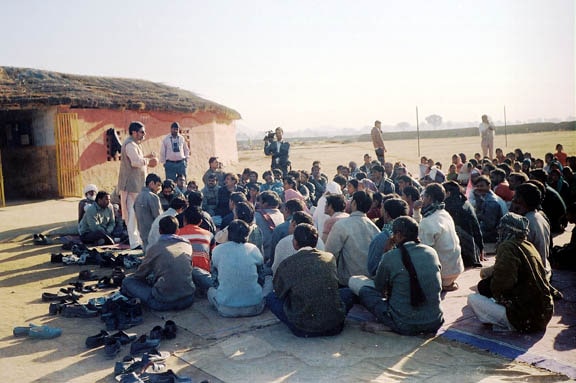 Digantar started in a privately owned garden in Jaipur, Rajasthan with seven children and two teachers inspired and trained by David Horsburgh of Neel Bagh, Karnataka. David Horsburgh liked India and was a passionate educationalist, learned in Sanskrit and Pali, believed that India's development was severely limited on account of the vast numbers of rural children who had no access to a good education. Mr. Horsburgh would say that the real brain drain in India was not the many experts who had left India to work overseas, but the thousands and thousands of children who had no educational opportunities. He started Neelbagh as an example and living testing ground of good education, a small free school in rural Karnataka to demonstrate the transformative potential of high-quality learning. To run a school exactly as per his vision of education and to serve the poorest of the poor, he financed his schools through textbooks he wrote for the Indian context. The children who attended Neelbagh would otherwise have spent their formative years helping their parents eke out a marginal farming livelihood. At Neelbagh, children learned not only the classic school subjects of Science, Maths, English, Sanskrit, Hindi, plus Kannada and Telegu, they also learned pottery, singing, gardening, sewing, carpentry, art, philosophy, and poetry. School life was a hub of activity, fun, enthusiasm, and continuous learning.
Digantar has its roots in Mr. Horsburgh's vision, approach, and practice. From its beginnings, Digantar has been committed to providing education of this nature. Self-paced learning without fear or punishment; conceptual learning with clear understanding supported wherever possible by reasoning and practical experience; exploring a broader than usual curriculum including arts and crafts and many activities usually dubbed as extracurricular; growing to become self-motivated and independent in learners – these were the qualities that were considered to constitute good education.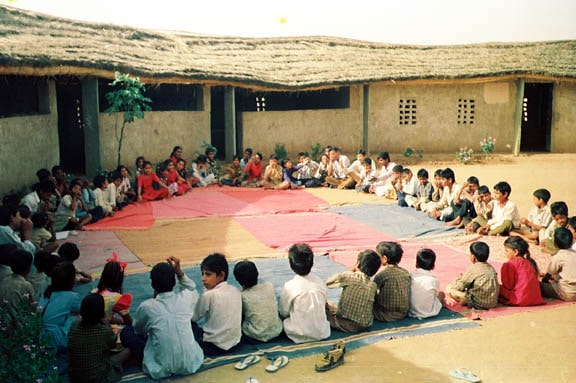 Interaction with other organisations and close contact with local disadvantaged communities in the early years brought a strong commitment to democratic values and Digantar's emphasis on reason in its emerging and inclusive educational philosophy. With an emphasis on the power of reason in the first teacher'sown study of the philosophy of mathematics and its usefulness established from the outset by the teachers' training at Neelbagh, a system of principles, pedagogy, and structure of school life emerged over Digantar's first decade.
Digantar's second stage of development effectively started in 1986 when it was decided that the school (now under a registered society named Digantar Shiksha Evam Khelkud Samiti) should be relocated to a permanent home in the rural surrounds of Jaipur to cater to children not attending school and to girlchildren in particular. In time, a three-point agenda emerged. The work of running the school became known as Digantar Vidyalaya. The work of developing appropriate courses, materials, and the training of teachers became The Academic Resource Unit (TARU), enabling Digantar to expand its impact by working with government schools for their pedagogical improvement. Publishing children's books and teacher guides in Hindi started with the expansion of Digantar's work with other organisations like Lok Jumbish, URMUL Trust, and Rajiv Gandhi Shiksha Mission Bhopal. A felt need to bring in good theoretical material and educational thought due to involvement in capacity-building programmes at the national level resulted in the publication of Shiksha Vimarsh, a magazine in Hindi. Funds were sought to enable these three activities and they effectively set the parameters for Digantar's pedagogical objectives through the subsequent three decades until now.